The smiles on the faces of both faculty and students beamed all around the campus as their beloved Alma mater, Central Philippine Adventist College, celebrates its 38th founding anniversary on August 12, 2019. This year's thanksgiving program was outlined with 5 Rs; repose, reminisce, return, reflect and rejoice.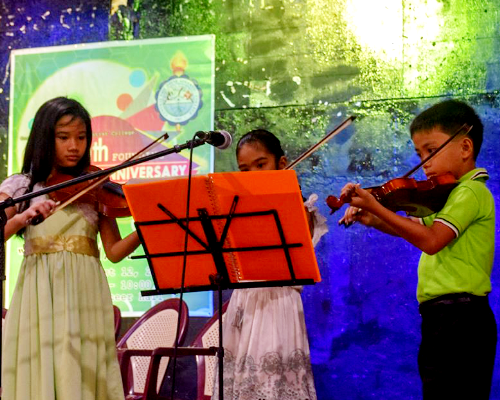 The celebration started off with moments of repose; reaffirming faith in God, singing and honoring the Lord for His faithfulness to the college. A fitting message was delivered by the school's newly appointed church pastor, Pastor Jemuel M. Toledanes, which emphasized the meaning of rejuvenating with the Lord and the importance of selfless service.
Reminiscing the past began with a trio violin rendition of selected elementary pupils. A sense of nostalgia pervaded the air with the testimony given by Pastor Joy Cantela, an alumnus serving as church pastor at the Bacolod Adventist Church and incumbent president of the CPAC Alumni Association – Bacolod Chapter. His recollection started with how the Lord brought him to CPAC while serving as a full-time literature evangelist at the age of 21 and how his life changed with his experiences first as a CPAC student and now as an ordained pastor. Going back through memory lane, a video presentation was shown which portrayed the history of the college.
To return the good things that the college has brought to every life in the campus, each department from the elementary to college engaged in various activities from receiving books for donation to Alegria Elementary School, to income generation through garage sale to fund some small projects for the college, information drive against the dengue outbreak in Murcia, to distribution of tracks and the like.
To reflect, CPAC administrators graced those in attendance with their plans and commitments for the future development of the college. Dr. Julie Mirriam Rizardo, college president, presented the achievements of the college and the gifts that each senior class has given before leaving their Alma mater and a challenge to unitedly push the work in the college onwards.
The rejoice portion of the anniversary program was participated with everyone giving out love offerings for CPAC, followed by a musical rendition of the CPAC mass choir and a cultural presentation. Pastor Eldyn S. Toledo, Vice President for Student Administration offered the closing prayer and treats of various pastries and the Pinoy 'sorbetes' were served to everyone in attendance.
The thorough planning and preparation of each committee made the event truly memorable and something to look forward to every August.
Written by: Jed Salazar