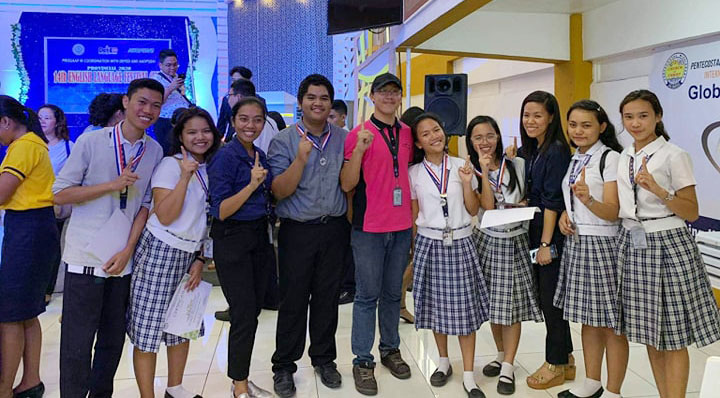 The CPAC Academy joined the 14th Private Schools Athletic Association of the Philippines English Language Festival last February 27, 2020, at Maranatha Christian Academy, Bacolod City with the theme "ELF: Discovering learners' potentials, nurturing the 21st-century skills."
The festival was attended by some of the schools around the province of Negros Occidental. The festival showcased several events that enhance the use of the English language. The events in the festival were declamation, oration, character impersonation, oral interpretation, extemporaneous speech, editorial writing, feature writing, news writing, on-the-spot essay writing, on-the-spot poem writing, and spelling.
CPAC Academy, for the first time, sent representatives for each event earning eight medals out of eleven – three golds, four silvers, and one bronze.
Sheree Kwan represented the school in the declamation event. She delivered an original piece entitled "Dare to Be" winning her a gold medal; Roel John Martinez gave a persuasive oratorical speech entitled "Standing at the Rivers Edge: Confronting the Language Barriers" winning the coveted 1st place, and Khyla Marielle Cadorna delivered a fantastic oral interpretation of the piece "To One in Paradise" by Edgar Allan Poe placing her 1st for the event.
The rest of the representatives namely Febelyn Tagologon who placed 2nd for on-the-spot poem writing with her poem "Braving the Darkness in Me," Syre Yan Tubale placed 2nd for feature writing, Ivy Joy Bolivar – 2nd place for editorial writing and Benjamin Louis Dela Rama III placed 2nd for extemporaneous speech.
Pincky Grace Alvarado placed 3rd on the character impersonation event. She impersonated Eve, the 1st woman in the Bible.
Mrs. Carado said, "Praise God for this honor. We haven't prepared much, but God gave us a surprise. All glory belongs to God."
The three gold medalists will be representing the province in the regional meet in Iloilo City. They will be accompanied by their coaches Ms. Kaylyn Fleur Maglana, Mr. Greg Martin Orbegoso, and Ms. Nylvie Loire Collamat. Ms. Mersol Antone will also attend them as the representative of the school to the ANOPSSAI and Mrs. Leonora Carado, and the school Principal will go as well.
However, due to the COVID-19 pandemic, the regional competition was placed on hold.